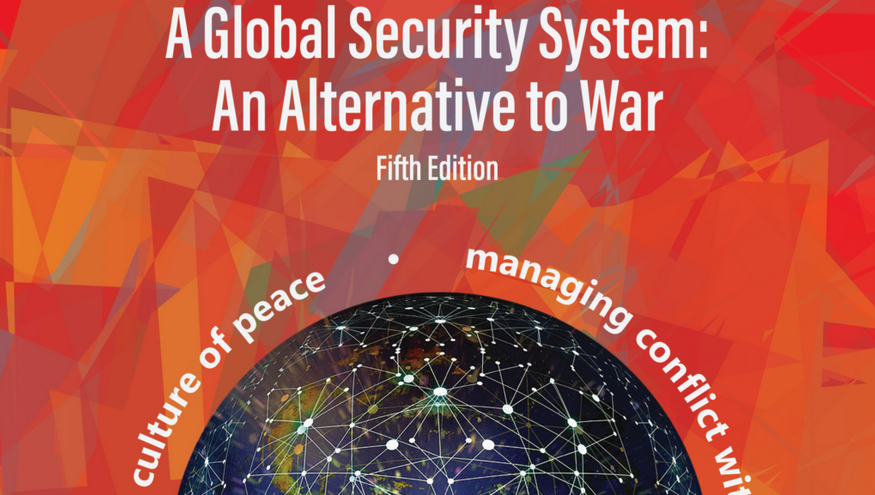 "You say you're against war, but what's the alternative?"
AGSS is World BEYOND War's blueprint for an alternative security system – one in which peace is pursued by peaceful means.
AGSS relies on three broad strategies for humanity to end war: 1) demilitarizing security, 2) managing conflicts without violence, and 3) creating a culture of peace. These are the interrelated components of our system: the frameworks, processes, tools and institutions necessary for dismantling the war machine and replacing it with a peace system that will provide a more assured common security. Strategies for demilitarizing security are directed at reducing dependency on militarism. Strategies for managing conflict without violence are focused on reforming and/or establishing new institutions, tools and processes for assuring security. Strategies for creating a culture of peace are concerned with establishing social and cultural norms, values, and principles necessary for sustaining a thriving peace system and the means to spread it globally.
"A Global Security System is a serious and major attempt to explore what a world without war could be. The book presents, from many angles, an interconnected vision, with a positive framing of what is possible and that the capacity exists to make it happen. This book is an incredible undertaking and I really appreciated the clarity of the layout, which makes the ideas tangible."
"What a treasure. It is so well written and conceptualized. The beautiful text and design immediately captured the attention and imagination of my 90 graduate and undergraduate students. Visually and substantively, the clarity of the book appeals to young people in a way textbooks have not."
"This book offers a bold and achievable vision of how we can move from aspiring to move to a world beyond war, to treading the road to a truly more peaceful and just world. . . . We need to a build a bold vision and action to a global positive peace industry across our institutions and this book helps to guide this bold call for action."
"This book offers a comprehensive, 360-degree, vision for peace that left no stone un-turned. Its unique approach will inspire and inform generations of peacemakers the world over."
"Based on the most up-to-date research, accessibly written, wide-ranging and thorough, well-organised and rich in further resources and practical ideas, this collaborative volume provides an outstanding source for students and teachers looking to better understand how destructive militarism is, and how to practically create a more peaceful international system."
"A Global Security System: An Alternative to War is a comprehensive book that sets out a hopeful, actionable blueprint for ending war. . . . A particularly insightful new edition to the book is the chapter on youth."
"I found this book a breath of fresh air. Not only does it present the idea of abolishing war as possible, it provides a comprehensive framework with three broad, but at the same time, practical strategies on how to go about it. . . . I found this book both empowering and inspiring, offering many pragmatic suggestions on how students can take can on leadership roles in the global movement to develop a paradigm for an alternative global security system. This book serves as a dynamic tool that I intend to incorporate into my current peace education curriculum."
"This is an important book—well researched, updated and accessible with recommendations for leaders and citizens across the globe. I appreciate that it states clearly that it is a 'work in progress,' an admission that will keep readers on their toes to consider new and emerging conditions like population growth and climate change, leadership, protests and citizen engagement, and the need for educational reform at all levels and in all disciplines."
"A Global Security System: An Alternative to War is a must-read for global leaders, practitioners, and scholars in the field of peace and conflict resolution. It is also an eye-opener for those who might think war is an answer for achieving a safer and more peaceful world – just the opposite is true."
"This book is very accessible, and is designed like a how-to manual, in that the reader can begin at the start and follow it through its logical course, or open it at a specific place of interest. . . . This important book is a valuable resource for use in schools, for study groups, and for individuals who care about our world and want to participate meaningfully in making it better."
"The AGSS provides tried-and-tested strategies and actionable tips for those curious about and committed to building and sustaining peace by peaceful means."
"The book is rife with examples of processes to be attempted, some even from former military personnel, activists, and leaders in conflict resolution. The book positively and proactively introduces the reader to people and programs around the globe that support and strive for the common goal of demilitarizing the world and seeking peace for the entirety of the planet."
"I highly recommend this book or chapters in this book for both academics and practitioners, be they policy makers, peace activists, peace scholars, or peace researchers. Concerned citizens, activists, parliamentarians, and academics can benefit from this work, which can be adopted in anthropology, economics, gender studies, history, international organizations, international relations, peace studies, political science, public policy, and social philosophy."
Award-Winning Educational Resource
AGSS & Study War No More received the 2018-19 Educator's Challenge Award offered by the Global Challenges Foundation.  The award acknowledges innovative approaches to engage students and broader audiences in discussions on the importance of global challenges, ranging from war to climate change.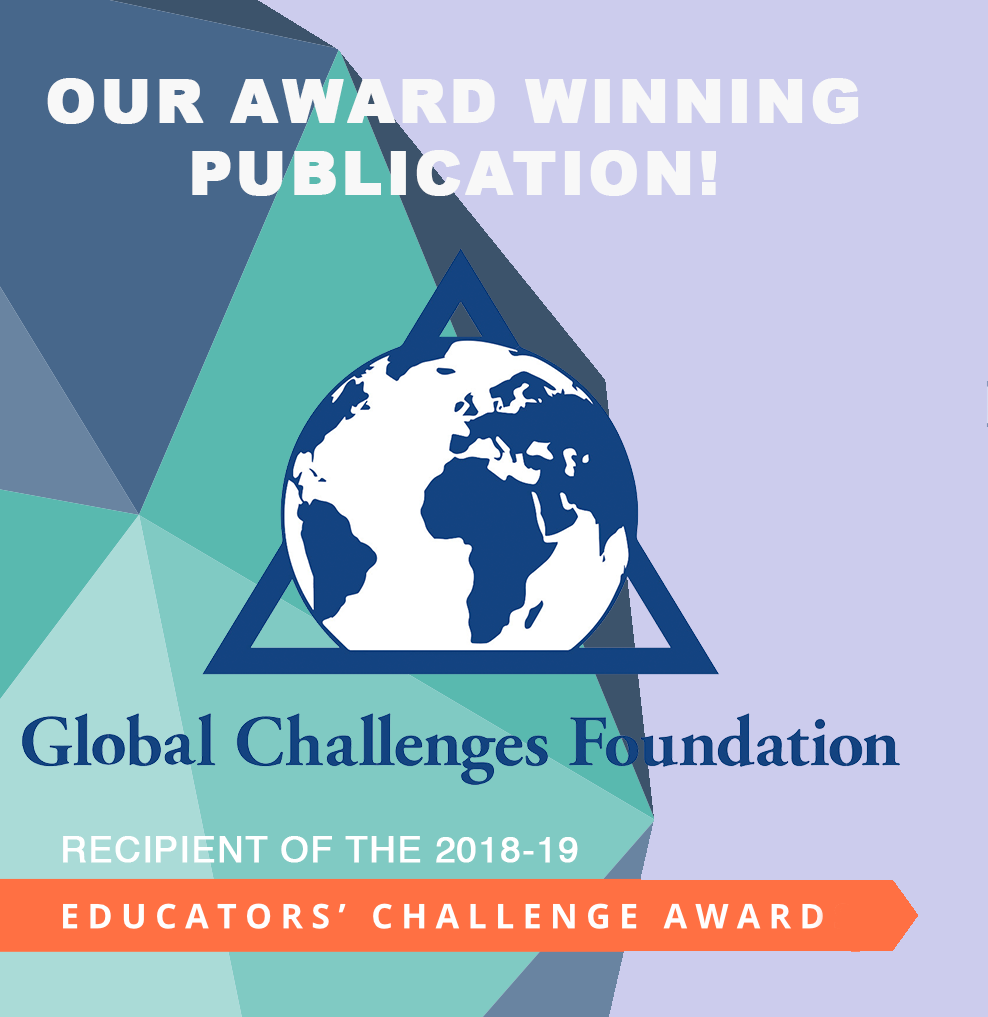 The Fifth Edition was improved and expanded by World BEYOND War staff and board, led by Phill Gittins. The 2018-19 / Fourth Edition was improved and expanded by World BEYOND War staff and Coordinating Committee Members, led by Tony Jenkins, with proof editing by Greta Zarro.  Many revisions were based on feedback from students in World BEYOND War's online class "War Abolition 201."
The 2017 edition was improved and expanded by World BEYOND War staff and Coordinating Committee members, led by Patrick Hiller and David Swanson. Many revisions were based on feedback from "No War 2016" conference participants as well as feedback from students in World BEYOND War's online class "War Abolition 101."
The 2016 edition was improved and expanded by World BEYOND War staff and Coordinating Committee members, led by Patrick Hiller, with input from Russ Faure-Brac, Alice Slater, Mel Duncan, Colin Archer, John Horgan, David Hartsough, Leah Bolger, Robert Irwin, Joe Scarry, Mary DeCamp, Susan Lain Harris, Catherine Mullaugh, Margaret Pecoraro, Jewell Starsinger, Benjamin Urmston, Ronald Glossop, Robert Burrowes, Linda Swanson.
The original 2015 edition was the work of the World Beyond War Strategy Committee with input from the Coordinating Committee. All active members of those committees were involved and get credit, along with allies consulted and the work of all those drawn from and cited in the book. Kent Shifferd was the lead author. Also involved were Alice Slater, Bob Irwin, David Hartsough, Patrick Hiller, Paloma Ayala Vela, David Swanson, Joe Scarry.


Phill Gittins did final editing of Fifth Edition.
Tony Jenkins did final editing in 2018-19.
Patrick Hiller did final editing in 2015, 2016 and 2017.
Paloma Ayala Vela did layout in 2015, 2016, 2017 and 2018-19.
Joe Scarry did web-design and publication in 2015.
Free 15-Page Summary Version
Use the Free Online Study Guide