Find an event, or host your own! Use the search bar to find events and click the list button to toggle between list, calendar, or map view.
Click here to add your own event, or email your event info to events@worldbeyondwar.org. You can post any pro-peace/anti-war event that you are organizing, or that you are aware of, happening virtually or anywhere on earth.
Find flyers, fact sheets, sign-up sheets, and other event resources in our Resources Database here. Contact World BEYOND War for more information, ideas, and help with outreach and promotion.
World BEYOND War (WBW) provides this free event promotion service to publicize anti-war/pro-peace events around the world. Events listed are not necessarily endorsed or sponsored by WBW. Please contact the event host directly with event-specific questions.
Join the Sacred Peace Walk
April 1

-

April 7

$125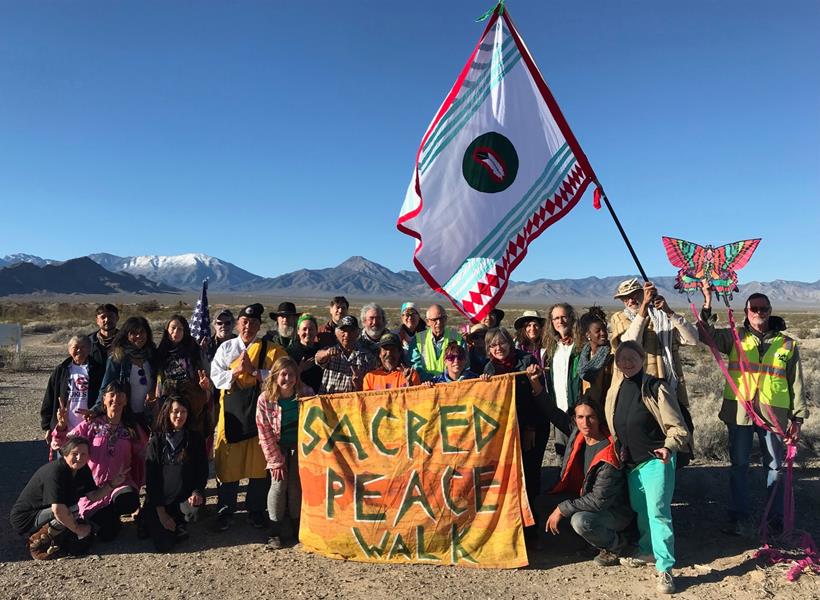 In this season of wars, a worldwide refugee crisis and the climate thrown into chaos, when the Bulletin of the Atomic Scientists moves up its doomsday clock to 90 seconds before midnight, the Nevada Desert Experience invites you to join us in an event of hope and resistance in the desert.
Over Holy Week, April 1-7 this year, as for most of the past 40 years, NDE will host The Sacred Peace Walk, an interfaith journey of approximately 60 miles from Las Vegas to the Nevada National Security Site (NNSS, formerly the Nevada Test Site) through the Great Basin Desert in Nevada, on the beautiful traditional lands of the indigenous Western Shoshone and Paiute peoples.
Throughout the week, there are opportunities to engage in prayer-actionritual, music art and community-building that make this exerience unique and transformative. We will bring our message of nonviolence to the test site and to Creech Air Force Base along the way.
The NNSS, established on land stolen from the Western Shoshone nation, was the primary testing ground of American nuclear devices from 1951 to 1992; 928 announced nuclear explosions occurred there, making it the most bombed place on earth. Today it continues as the site of "subcritical" nuclear tests and other research for new nuclear bombs and for the "life-extension" of old ones.
Creech Air Force Base, about halfway from Las Vegas to the test site, is the center of drone warfare and assasination for the US military and the CIA. NDE began protesting there in 2009 and since then war from a distance by remote control has grown to be a staple of US policy, and instrument of terror that exacts a horrific toll on civilians abroad and moral injury on troops at home.
The walk will end at the NNSS with a "Nuclear Stations of the Cross" procession from the historic Peace Camp to the gates. With permission of the Western Shoshone National Council, some will enter the test site, risking arrest. After more than 30 years of not prosecuting activists arrested at the NNSS, local authorities have recently begun charging some repeat "offenders".On Monday April 10, two NDE activists are scheduled to appear in court in Beatty, Nevada, for an alleged trespass last October.
April is a beautiful time to camp in the desert along the way and there may be limited indoor accomodations. Walkers are asked to bring their own camping gear, including a sleeping bag, tent, hat, water bottle, flashlight, and meal kit, but some equipment is available to borrow. Support vehicles will follow along the route to provide water, snacks, first aid supplies and porta-potties. All meals will be provided. You are free to walk the portion of each day's route that is comfortable for you.
If you are interested in participating in the SPW in other ways, volunteers are needed each day to support the walk by providing/serving meals, driving support vehicles, donating snacks and supplies, and other tasks.
The suggested registration fee for the SPW is $125 general, and $75 for veterans, seniors and students or $20 per day.
Please join us to resist nuclear weapons and endless war, stand up for indigenous rights and create a peaceful, sustainable future. Together we can transform fears into compassion and empathy into action during NDE's annual Sacred Peace Walk!