Weapons shipments should be blocked, arms fairs closed, blood profits protested, and the business of war made shameful and disreputable. World BEYOND War works to protest, disrupt, and reduce the arms trade.
World BEYOND War is a member of the War Industry Resisters Network, and works with organizations and coalitions around the world on this campaign, including Groups Against Arms Fairs (which we co-founded), CODE PINK, and many others.
Pictured: Rachel Small, World BEYOND War Canada Organizer. Photo credit: the Hamilton Spectator.
The latest news on efforts to end weapons dealing: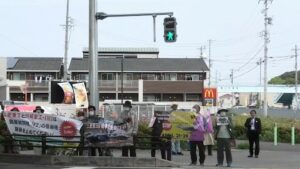 Japan for a World BEYOND War conducted protests against Lockheed Martin at two locations on the 23rd of April.
Read More »
Plans for Annual Meetings of Weapons Dealers in 2023:
Raytheon —  two years ago it was 2nd week of April — Arlington, Va
Lockheed Martin — tends to be 4th week of April — Bethesda, Md
Boeing — this past year it was at end of April — Arlington, Va
Northrop Grumman — this past year it was 3rd week of May — Falls Church, Va
General Dynamics — tends to be first week of May — Reston, Va
BAE — this past year was first week of May in Farnborough, Hampshire, UK