World BEYOND War believes that education is a critical component of a global security system and an essential tool for getting us there.
We educate both about and for the abolition of war. Our educational resources are based on knowledge and research that expose the myths of war and illuminate the proven nonviolent, peaceful alternatives that can bring us authentic security. Of course, knowledge is only useful when it's applied. Thus we also encourage citizens to reflect upon critical questions and engage in dialogue with peers toward challenging assumptions of the war system. These forms of critical, reflective learning have been well documented to support increased political efficacy and action for system change.
online courses taught through November 2022.
students taught in online courses.
War and the Environment: April 10 - May 22, 2023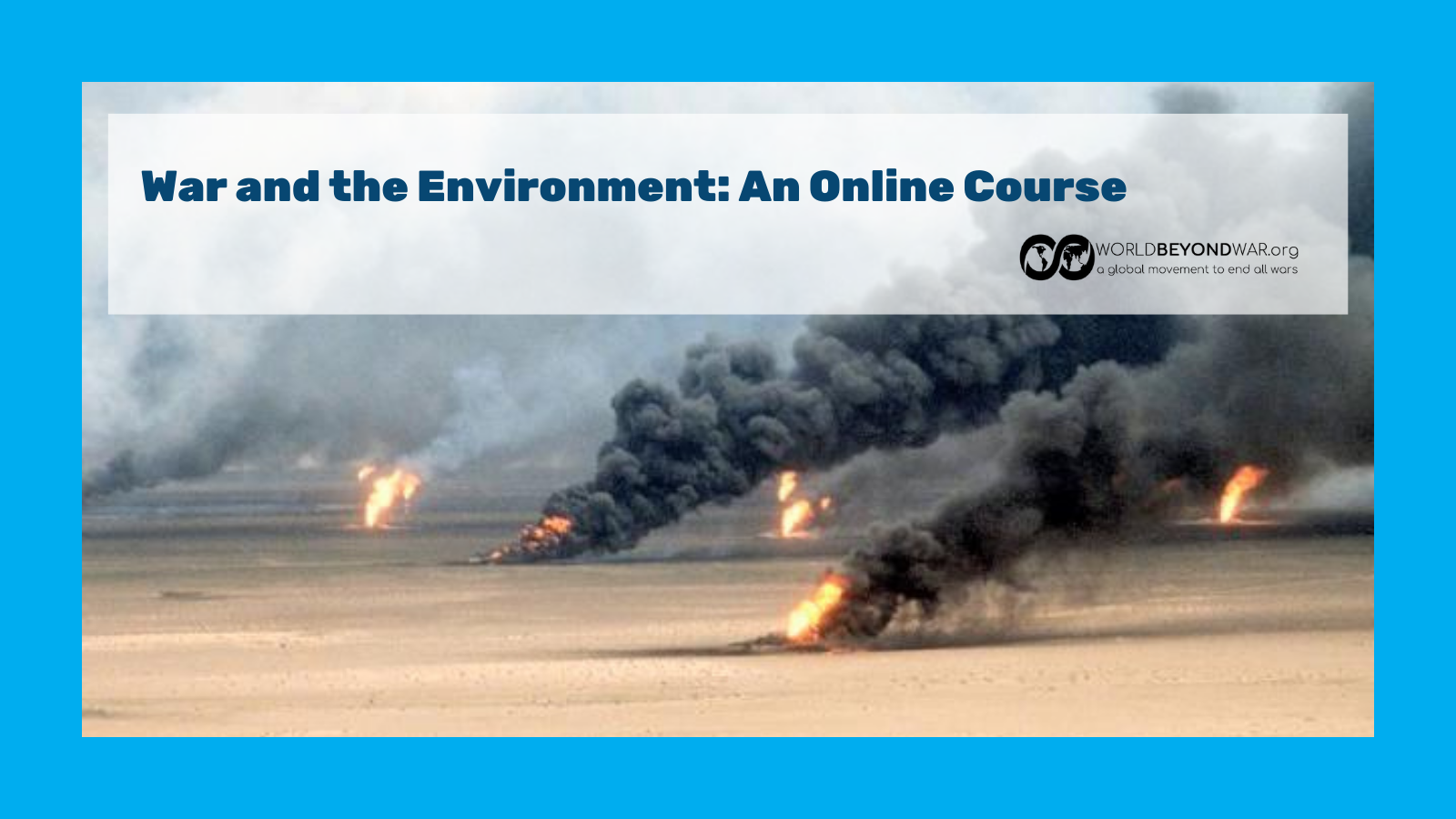 Grounded in research on peace and ecological security, this course focusses on the relationship between two existential threats: war and environmental catastrophe.
Leaving World War II Behind: July 3 - August 13, 2023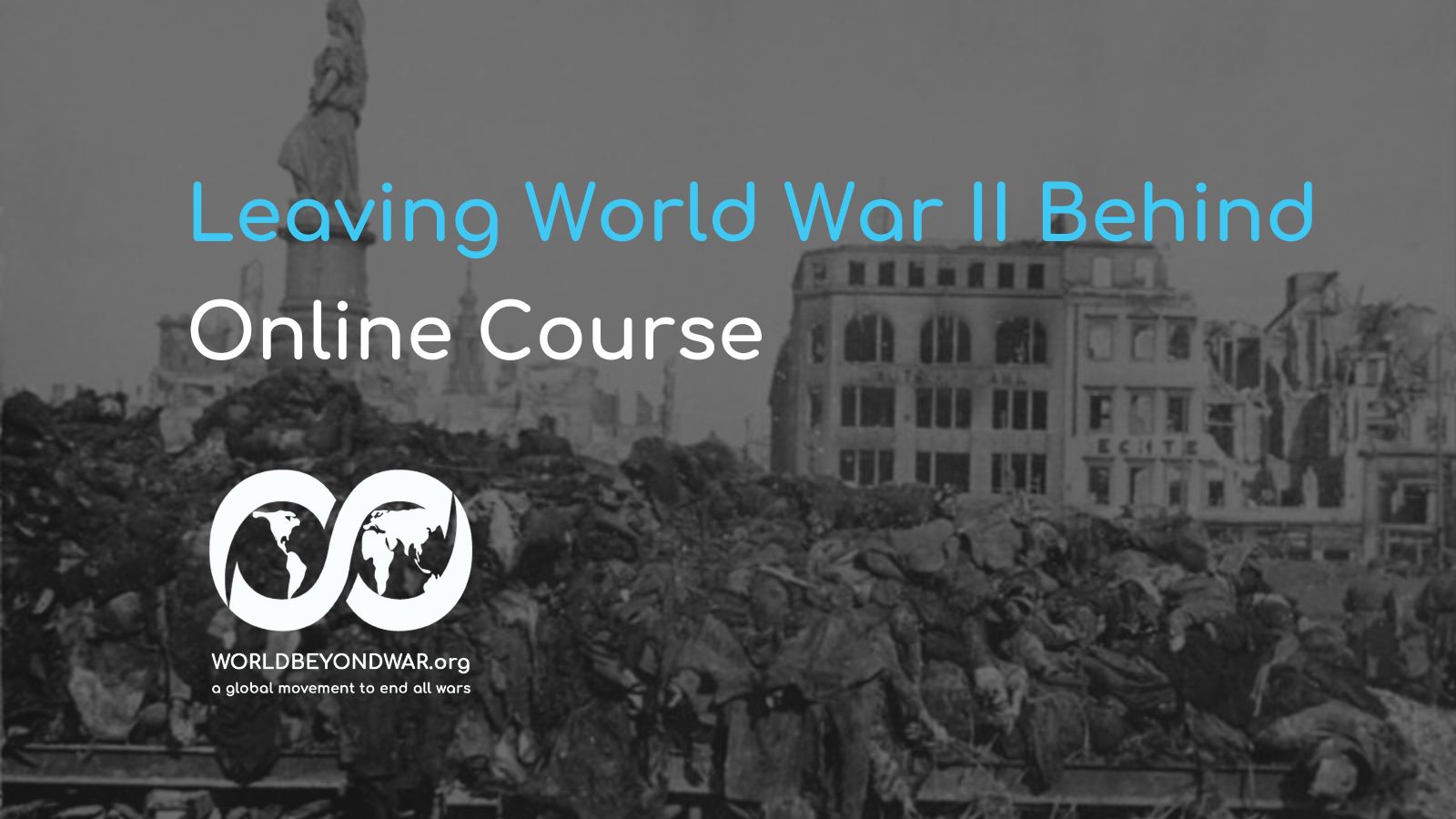 The purpose of the course is to inform the participant and enable them to inform others of why World War II is not a good justification for military spending and war planning.
Peace Education and Action for Impact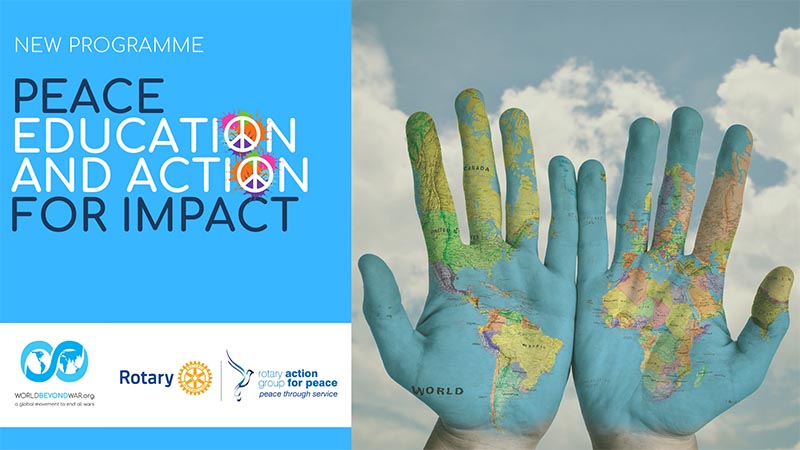 Learn more about this collaboration between World BEYOND War, Rotary, and Rotary Action Group for Peace.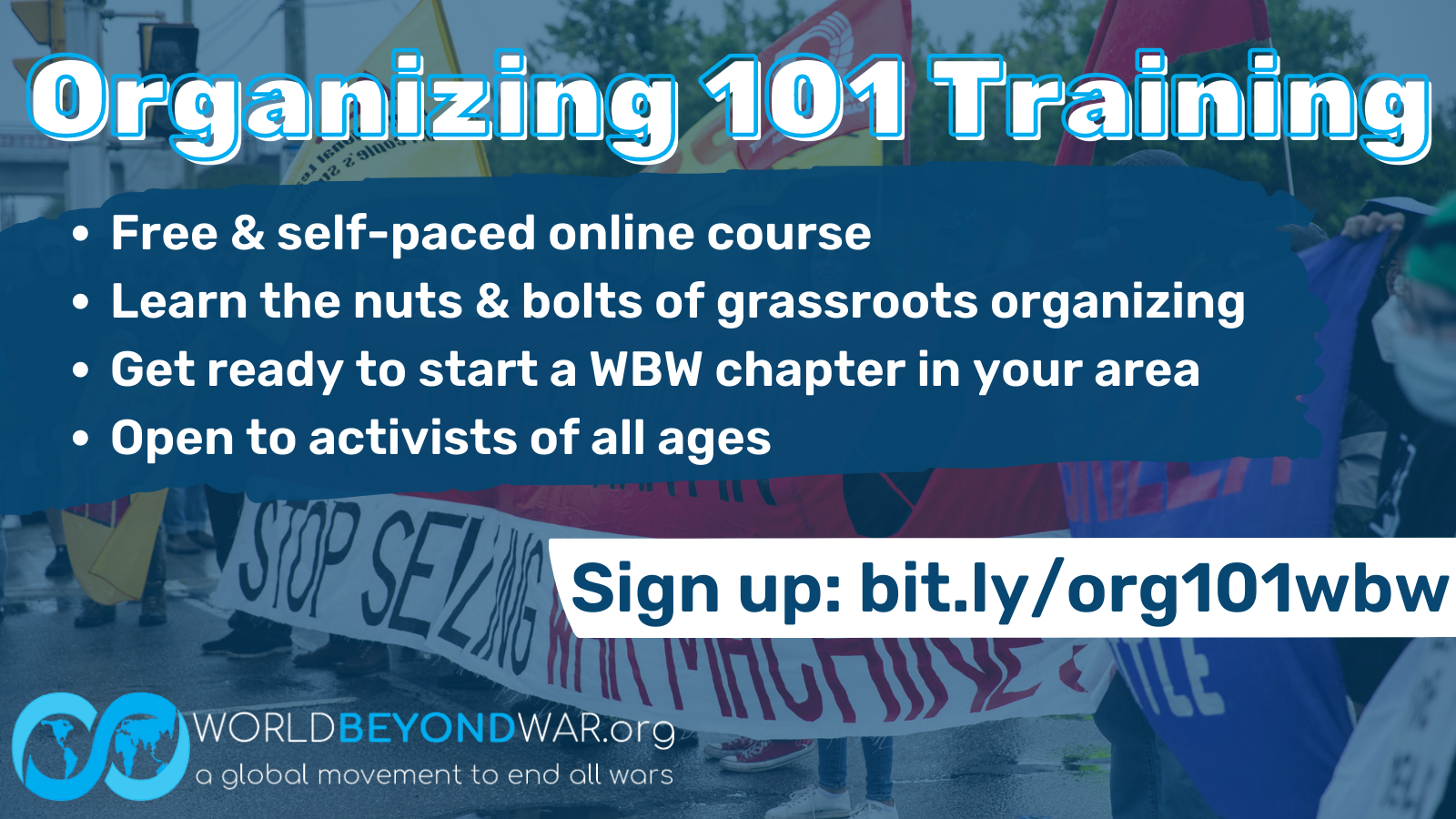 World BEYOND War's Organizing 101 course is designed to provide participants with a basic understanding of grassroots organizing. Whether you are a prospective World BEYOND War chapter coordinator or already have an established chapter, this course will help you hone your organizing skills.
"I so appreciated the education and training I receieved in 'War Abolition 201: Building the Alternative Global Security System.' I have very little education and training in this topic, and was a little nervous I would not be able to understand the material. And I was so happy that the course was simultaneously so rich in information and did not need me to have previous experience or education in war abolition. The course was moderated each of the 6 weeks by person War Abolition. It was an incredible experience to have the rich, valuable knowledge of 6 people, each with their own expertise. The course website is simple and intuitive. I can get lost sometimes on some websites. Not this one. I could easily find myself to the module I was working on at the moment, as well as find any material I was looking for. The course systematically reveals the moral, social, political, philosophical and pragmatic harm of war. It presents all of the arguments that the powers that benefit from war propogates, and destroys them systematically and unequivocally. I am particularly grateful to having this level of information being presented in an in-depth and yet conversational tone. It helped me relate it to the propaganda that I experience around me, and see it for what it is. The course also does not stop with countering biased arguments. It also lays out a deep foundation of what peace can and will achieve. I fear I was so lacking in hope and vision, that this aspect of the course was vital for me. The course helped me get a clear idea of not just what is at stake, but also all the humanitarian needs we can meet when war is ended. This course is for people working at the grassroots. It is not for any imaginary or elite group of people. It empowers all people to work towards peace. It is a roadmap for an entire new world that equips and teaches people of all ages and countries to learn the tools of peace. I think it is a vital part of thoughtfully building a future."
"I was really impressed with the material provided. The content was well researched and referenced. But, what I liked the most about both courses was the collaborative learning. There were not only online assignments which everyone shared, and was able to comment on. Each week there was also a discussion thread, in which many students as well as course facilitators participated. I think those of us who participated in the discussions learned a lot beyond the content of the course. There were participants from all over the world with a wide variety of knowledge and experience, and the interaction between students and the feedback from the very knowledgeable course facilitators combined provided much additional learning. At the beginning of the course I felt ill prepared to articulate my objection to wars, and war preparation. But, now I feel confident that I can provide critics with well researched answers."
"Knowledge is power. To change the minds of a doubting public about peace requires more than passion. The courses offered by World BEYOND War enabled me with the knowledge and tools to dialogue on a convincing level with doubters. The knowledge to change culture, to show the essentials of security, and to demonstrate conflict management in our society gave me the confidence to speak out publicly on the many issues of ending war and more - to create peace."
"I found this course relevant to my life and dreams of being a war abolisher. The course materials and resources responded to the questions I had about war and militarism, especially in relation to the myths around war being inevitable, just, necessary, and beneficial. This course also made me realise that war and militarism make us less safe and secure. I realise now that the most appropriate way to respond peacefully to any conflict is to not only oppose war but also to work towards peace and justice."
"The teachings I received in this course completely changed my perspective on the relationship between war, militarism, and climate change. Overall, this course gave me a foundation for learning more about and organizing against militarism in my context!)"
"The War and the Environment course completely changed the way I think about climate change and climate justice activism. This course opened my eyes to the role of militarism in the climate crisis while addressing why we often don't hear about the military from larger environmental nonprofit organizations. It also left me with clear steps forward. I highly recommend taking this course!"
"The World BEYOND War course on "War and the Environment" is enlightening, frightening, and just what I needed so that I can be better informed and able to carry to others the message that 'War is harmful for the world and other living things.' What are we doing as humankind when we destroy the environment by war and rape the environment for war, and leave the world a worse place for all generations to follow? Can we leave a better world for my ten grandchildren? Please?"
"As a person who was born and grew up in a rural village in Ethiopia hearing the story of war, warriors, and all the past history of struggle among classes, ethnic groups, and religions etc., I used to think that war might be needed to survive. But looking at the destruction of cities, destruction of infrastructures, migration, hunger, etc. I began to think and ask myself questions like 'What would our future look like? Will war have an end? How will we solve our problems without war?' When I took the course 'Ending War 101' I gained a detailed understanding of the adverse impact of war, the way out of war, how war devastates our environment, how to end war, and why war is not a last resort... it was so great to know all of these things! For the past year, I have been living in Dessie, Ethiopia. I have seen the destructions of our cities. I know how it feels to be under the control of a bandit group who tries to destruct a nation. And, I believe that war should be ended. The course 'Ending War 101' actually helped me a lot. Additionally, I could join the Rotary club of Addis due to my engagement in thus course. Thank you for providing with us the opportunity."
"One of the lessons I learned from the WBW 201 course was less investment in talking people out of war and more on the advantages of building peace. I have friends like Beth who believe the old school DNA fallacy. As they say in the course, 'You can't talk someone out of what they've never been talked into'. My new strategy is thinking outside the 'box of war'. Toward this end, I am actively committed and am grateful for WBW which I am 100% behind!"
"The idea of Abolishing military and war brought me a burning question, 'How will we manage world conflicts, then?' War Abolition 201 answered that question. Your ideas made so much sense and inspired me!!"
"I am so glad that I took this course, as it was enormously useful. It provided me with a framework to understand conflict, and left me in no doubt that war is not inevitable. It is legalized murder and is always a choice. I feel much stronger in myself as I continue to work for peace."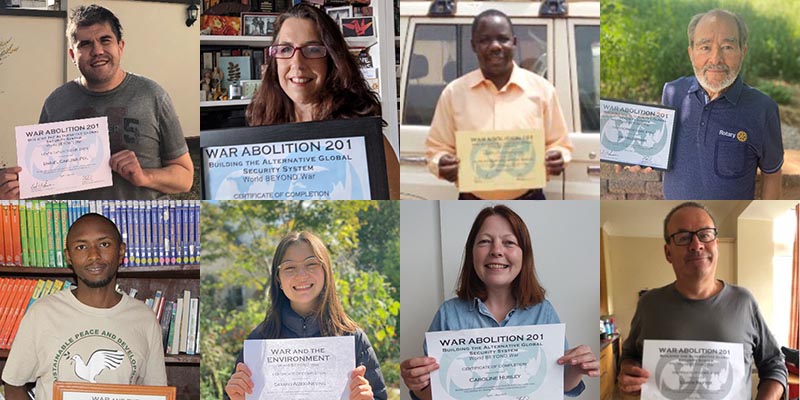 Changing Minds (and Measuring the Results)
World BEYOND War staff and other speakers have spoken to numerous offline and online groups. Often we have tried to measure the impact by polling those present at the beginning and end with the question "Can war ever be justified?" In a general audience (not self-selected to already oppose war) or in a school classroom, typically at the beginning of an event almost everyone will say that war can sometimes be justified, while at the end almost everyone will say that war can never be justified. This is the power of providing basic information that is rarely provided. When speaking to a peace group, typically a smaller percentage begins by believing that war can be justified, and a somewhat smaller percentage professes that belief at the end. We also try to bring in and persuade new audiences through public debates on the same question, offline and on. And we ask the debate moderators to poll the audience at the beginning and end.
Debates: