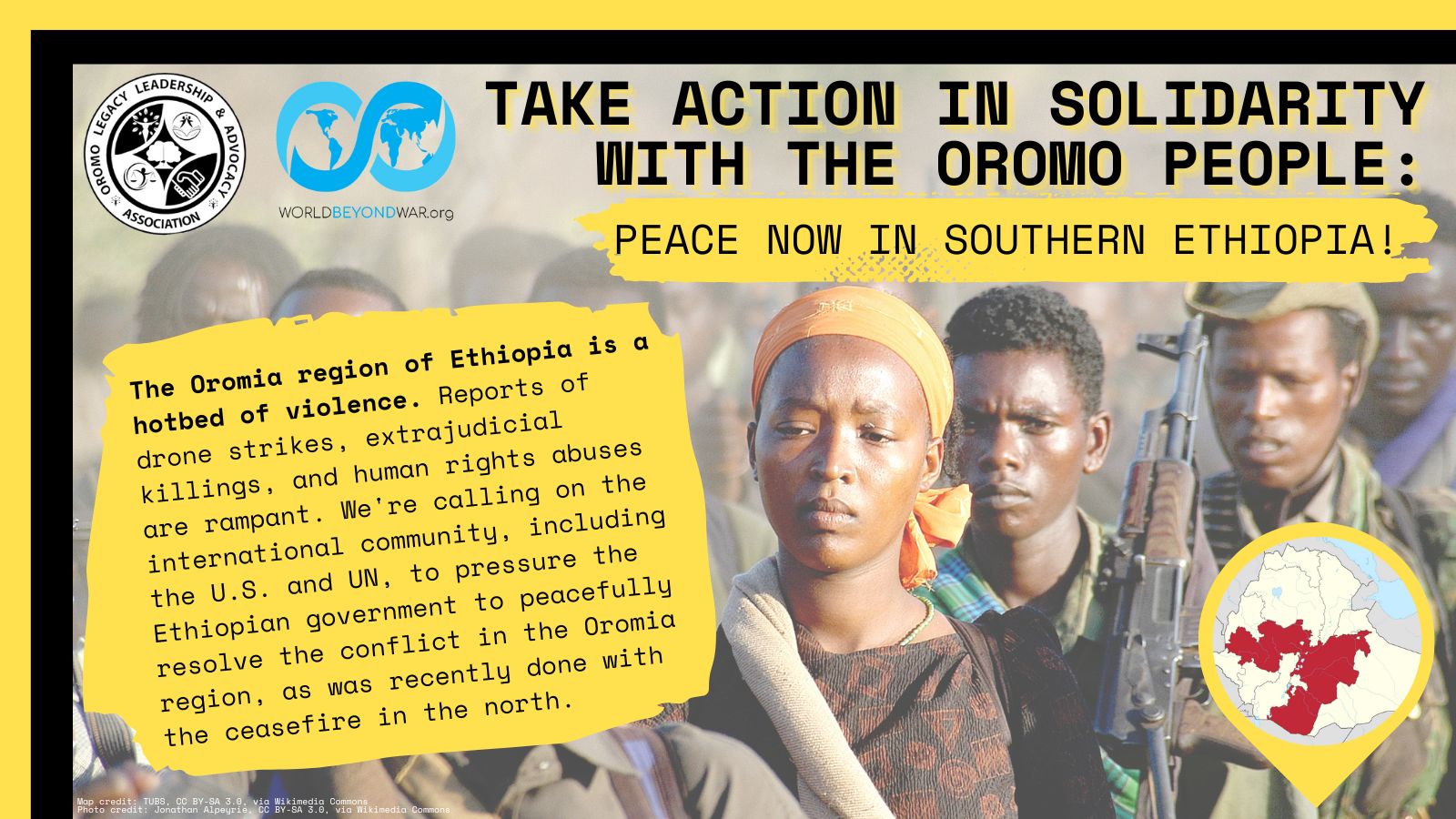 If you are from anywhere in the world, please read, sign, and share widely this petition:
To: United Nations Office of the High Commissioner for Human Rights, African Union, European Union, U.S. Government
We are gravely concerned by the increasingly dire human rights and humanitarian situation in the Oromia region of Ethiopia. More must be done by the international community to raise attention to this issue, and to pressure the Ethiopian government to seek a peaceful resolution to the conflict in the Oromia region, as it has recently managed with the Tigray People's Liberation Front (TPLF) in northern Ethiopia.
For the past two years, the international community has been riveted by the crisis in the Tigray region of Ethiopia. While it was a relief to hear the recent announcement of a peace agreement between the two parties, the crisis in northern Ethiopia is far from the only conflict in the country. The Oromo have experienced brutal repression and human rights abuses at the hands of various Ethiopian governments since the country was formed in the late 19th century. Since the rise of Prime Minister Abiy to power in 2018, reports of state agents perpetrating extrajudicial killings, arbitrary arrests and detentions, and drone strikes against civilians have been rampant.
Unfortunately, state-sanctioned violence is not the only threat facing Oromos and members of other ethnic groups who live in Oromia, as non-state armed actors have also been accused of routinely launching attacks against civilians.
A pattern has begun to emerge over the past two years, wherein, whenever there is a period of relative peace in northern Ethiopia, violence and abuses ramp up inside Oromia.
The recent signing of the peace agreement between the TPLF and the Ethiopian government is a crucial step toward laying the groundwork for peace throughout Ethiopia. However, lasting peace and regional stability cannot be achieved unless conflicts throughout Ethiopia and human rights abuses perpetrated against members of all ethnic groups, including the Oromo, are addressed.
We urge you to pressure the Ethiopian government to take concrete actions toward resolving these conflicts, including by:
Condemning human rights abuses in Oromia and calling for an end to violence throughout the region;
Investigating all credible allegations of human rights abuses throughout the country;
Supporting the work of the UN International Commission of Human Rights Experts on Ethiopia to investigate allegations of abuses throughout Ethiopia, and allowing them full access to the country;
Seeking a peaceful means to end the conflict in Oromia, as it has done with the TPLF in northern Ethiopia; and
Adopting inclusive transitional justice measures that include representatives of all major ethnic groups and political parties in order to address historic and continued human rights abuses, provide victims with access to justice, and lay the groundwork for a democratic path forward for the country.
Watch and Share This Video: