Militarizing police does not reduce crime but does increase police killings.
It is critically important to ban militarized policing whether or not your local police force is currently engaged in it.
We recommend working with us, as many localities now are, to study your locality, build a coalition, launch a petition, pursue media coverage, and move your local officials. To start a local campaign to ban militarized policing in your locality, anywhere on earth, contact World BEYOND War.
Portland: We're working with a coalition in Portland, Ore., on this. Portland has already banned tear gas. Sign our petition in Portland. Also use Code Pink's form to send an email to your City Councilor and County Commissioners to Demilitarize the Portland Police!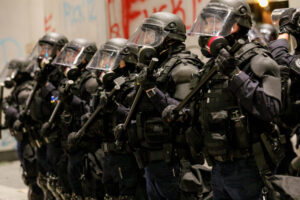 A coalition in Portland, Oregon, U.S., is continuing to build a campaign to demilitarize police.
Read More »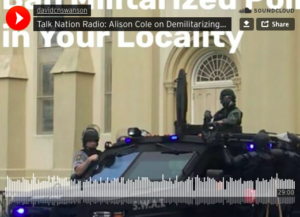 Alison Cole is a former researcher and activist living in Portland, Oregon. She is working with a coalition of community organizations to demilitarize their local law enforcement agencies.
Read More »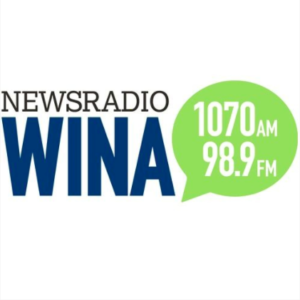 July 23, 2020 NewsRadio WINA · The Man Behind the Petition to De-Militarize Charlottesville Police Les Sinclair talks with David Swanson, executive director of WorldBeyondWar.org and campaign coordinator for RootsAction.org
Read More »
Demilitarize Police Webinar Video