By World BEYOND War, March 28, 2022
March 26 marked seven years of the war in Yemen, a war which has claimed the lives of almost 400,000 civilians. Protests in six cities across Canada held by the #CanadaStopArmingSaudi campaign marked the anniversary while demanding Canada end its complicity in the bloodshed. They called on the Government of Canada to immediately end arms transfers to Saudi Arabia, massively expand humanitarian assistance for the people of Yemen, and work with trade unions in the arms industry to ensure a just transition for arms industry workers.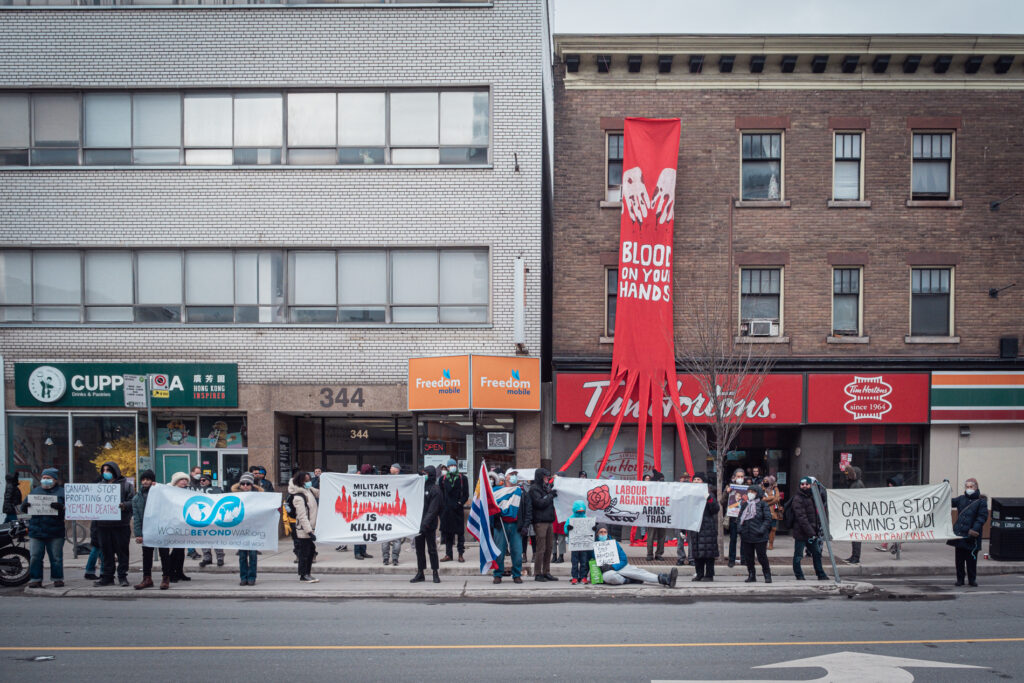 In Toronto a 50-foot banner was dropped off of Deputy Prime Minister Chrystia Freeland's building.

The UN Human Rights Council has twice named Canada as one of the states fueling the war in Yemen by continuing arms sales to Saudi Arabia. Canada has exported over $8 billion in arms to Saudi Arabia since the beginning of Saudi Arabia's military intervention in Yemen in 2015, despite the Saudi-led coalition conducting numerous indiscriminate and disproportionate airstrikes killing thousands of civilians and targeting civilian infrastructure in violation of the laws of war, including markets, hospitals, farms, schools, homes and water facilities.
Alongside an ongoing Saudi Arabian-led bombing campaign, Saudi Arabia and the UAE have imposed an air, land, and sea blockade on Yemen. Over 4 million people have been displaced and 70% of the Yemeni population, including 11.3 million children, are in desperate need of humanitarian assistance.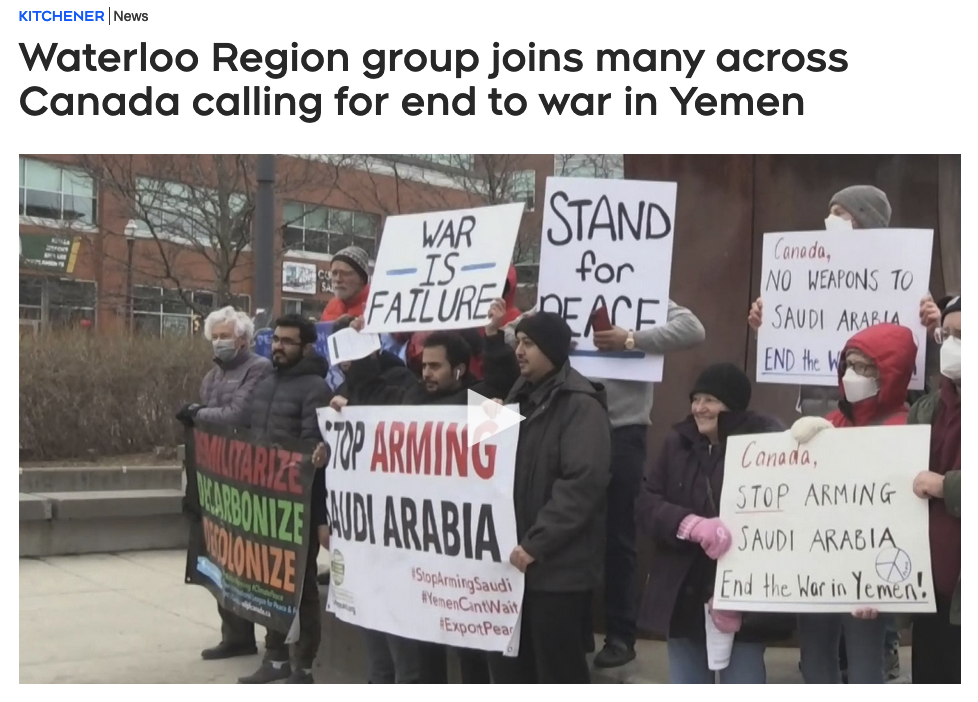 Watch CTV News coverage of the Kitchener #CanadaStopArmingSaudi protest.

While the world turns its attention to the brutal war in Ukraine, activists reminded Canadians of the government's complicity in the war in Yemen and what the United Nations has called "one of the world's worst humanitarian crises."
"It is deeply hypocritical and racist for Canada to condemn the Russian war crimes in Ukraine while remaining complicit in the brutal war in Yemen by sending billions of dollars in arms to Saudi Arabia, a regime that routinely targets civilians and civilian infrastructure with airstrikes," says Rachel Small of World BEYOND War.
In Vancouver, Yemeni and Saudi community members united with peace loving people for a protest marking 7 years of the Saudi-led brutal war on Yemen. The protest in Vancouver's busy downtown core attracted attention of people walking by, who took informational leaflets and were encouraged to sign the Parliamentary petition demanding an end to Canada's arms sales to Saudi Arabia.The protest was organized by Mobilization Against War & Occupation (MAWO), Yemeni Community Association of Canada and Fire This Time Movement for Social Justice.

"We reject the international division of humanity into worthy and unworthy victims of war," says Simon Black of Labour Against the Arms Trade. "It is long past time for the Trudeau government to listen to the vast majority of Canadians who are saying we should not be arming Saudi Arabia. But arms industry workers should not shoulder the blame for the bad decisions of the government. We demand a just transition for these workers."
Take action now in solidarity with Yemen:

Join the online rally on Thursday March 31.
For Canadian residents: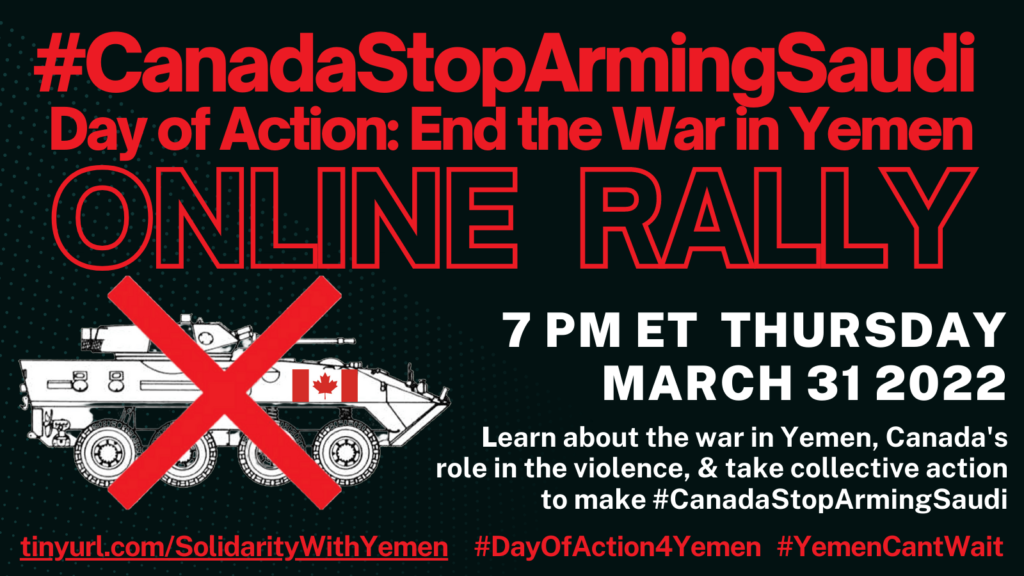 Photos and videos from across the country
Photos from the Montreal protest "NON à la guerre en Ukraine et NON à la guerre au Yémen".