By Alice Slater, The Nation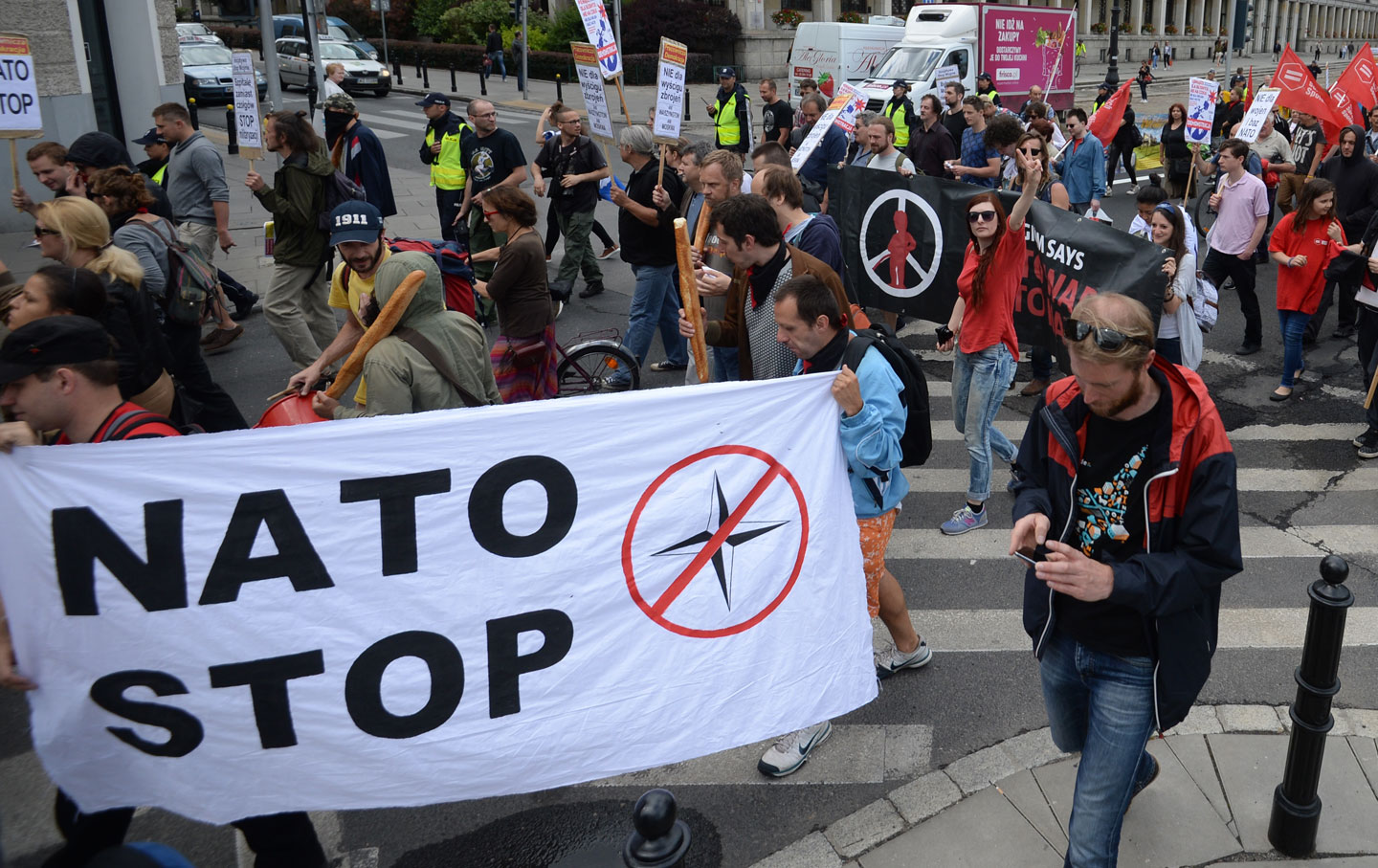 As President Obama flew to a NATO Summit meeting in Warsaw this weekend to plan and develop new ways for this rusty Cold War alliance to extend its reach and power in Europe and Asia, issuing new calls for billions more in funds to enhance their saber rattling war games and expansion to the Russian border, New York peace groups organized a Say-No-to-NATO rally in Times Square as European activists demonstrated in protest in Warsaw.
The people gathered at the point of a small triangle on Broadway between 44th and 43rd streets, up against the wall, ironically, of the US Armed Forces Recruiting Station. The two-story metal-clad shed hung with four brightly colored signature medallions of the Departments of the Navy, Marines, Air Force, and Army with their eagles, flags, shields, anchors, stars, and other symbols of their grandiose and benighted missions. Protesters joined the electric NYC energy of Times Square, with life-size Sesame Street characters, strolling up and down the avenue accosting people—Elmo, Oscar, Big Bird, and others—tourists from every nation speaking every language, and behind the triangle a temporary soccer field blaring loud folk and rock music with a permitted loudspeaker putting on a soccer show.
More than 100 people showed up from the tristate area and beyond to listen to each other over the din of Times Square, wave their signs, sing a few songs and call for a new foreign and domestic policy. Making connections between war abroad, violence at home and the awful murders of this past week in America, Madelyn Hoffman of NJ Peace Action reminded us that
"The U.S. has been at war for all but 27 years of its existence, whether those wars were against Native Americans or the civil war or wars overseas. Since 1951, NATO has been the extension of an aggressive and militarized U.S. foreign policy, a series of wars over resources—oil, water, land, precious minerals and more. The events of the past few weeks have shown us some of the consequences of that violence, whether it was the bombing at the Ataturk Airport in Istanbul or the bombings in Baghdad and Bangladesh. Many of the signs here today say 'end the wars at home and abroad' making me think of the instances of police brutality we witnessed this past week, followed by the shooting of police and in the ultimate example of the war being brought home, the use of a robot bomb to kill the alleged shooter in Dallas. Put aside questions of due process and other constitutional concerns and simply think about a police force having such hardware in their possession—giving them the capability of lobbing a bomb at someone or a group from a distance. We've seen the weapons of war turned against our own people in Ferguson and elsewhere. It's time now for us to change direction away from wars and escalating violence. It's up to all of us to go back to our communities and continue our work against escalating and expanding wars in Syria, Libya, Afghanistan, Yemen, Eastern Europe and more, so that we can finally bring about a sane, rational foreign policy that treats all throughout the world with dignity and equality, instead of on-going wars."
The group was a mixed assembly of many different organizations and networks from the US Peace Council, Veterans for Peace, the International Action Center, Peace Action, Code Pink, the Palestinian US Peace Forum, Black Agenda Report, the Global Network Against Nuclear Power and Weapons in Space, World Beyond War, Jonah House, the Palestinian US Peace Forum, Jewish Voices for Peace, Raging Grannies, the Manhattan Project for a Nuclear Free World, the Green Party, and many others. The spirit was good and upbeat—a sense that we were on to something new.
Our signs were eclectic and homemade for the most part, carrying messages that included:
YES TO PEACE! NO TO WAR!
US NATO OUT OF EASTERN EUROPE
STOP RACIST COP TERRORISM AT HOME & US WARS ABROAD
DISARM THE PENTAGON! DISARM THE POLICE!
YES TO PEACE! NO TO NATO!
HUMAN RIGHT TO PEACE!
GREEN JOBS! GREEN PLANET!
NATO IS A BOMB!
ONE PLANET! ONE LOVE!
NO TO WAR, NATO, AND POLICE VIOLENCE
The very fact that the speakers addressed both the violence of militarism and policing—and the tragic murders that the nation was still reeling from this week—gave us a sense of optimism. Today's peace movement is making the right connections, and hopefully can help finish the job of addressing US empire, war, poverty, environmental devastation, racism, domestic violence. There was a sense that this broad-based demonstration was a promising harbinger that it would be possible to come out of our issue silos and work together for a world with peace and justice. The organizers intend to hold a follow up meeting for the NY Metro area, to see how we can enhance this work. We need to move forward with our allies, who were demonstrating in Warsaw that same day and in other cities in the United States and Canada, to dismantle NATO and the war machine as we work to honor our legal promise in the treaty which established the United Nations with the noble mission to "end the scourge of war." In this 21st century, that mission is looking more and more like a practical idea if our civilization is to survive.
War is just so 20th century!
https://www.thenation.com/article/what-a-21st-century-peace-movement-looks-like/